Industra.Coffee roastery
INDUSTRA.COFFEE brings a fresh perspective on "good coffee".
More about our coffee
INDUSTRA.COFFEE roastery
We have been living for coffee for over a decade, maybe we are obsessed with it and roasting it is the next step on our coffee journey. Thanks to thousands of coffees tasted and hundreds of hours of concentrated tasting, we know how we would imagine our dream coffee. Then all we had to do was to master our Diedrich IR-12 and achieve, through roasting, exactly the character that we would be happy to drink for decades to come 🙂 But until then, there are bound to be many exciting changes and discoveries in the world of coffee that we too will look forward to with an open mind, so don't worry that we might get bored anytime soon!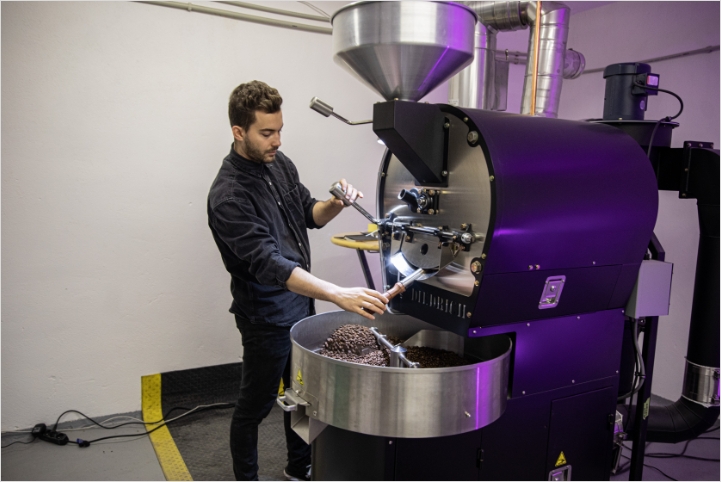 The philosophy of our roastery
Good coffee is something a little different for each of us. We have been obsessed with coffee for several years. It's our way of life. We taste and prepare it daily. Sometimes we compete or judge competitions. We are still studying coffee and after years of practice, we decided that roasting would be an exciting new step into the unknown. We knew what we wanted our coffee to taste like and we were learning how to achieve it. Today, we proudly pack the finest quality coffee beans into colorful bags and look forward to making our coffee as much fun and an endless playground of flavors for you as it is for us.
Visit our roastery
From the first idea of our own roastery, we wanted it to be accessible to people. That roasting is not a secret magic but something we will be happy to show and explain to you.
Our roasting plant is located in the premises of Nová Zbrojovka, in the building of the former compressor plant opposite the Zet.Office building.
We are planning regular "open days" right after the New Year. Follow us, we look forward to seeing you!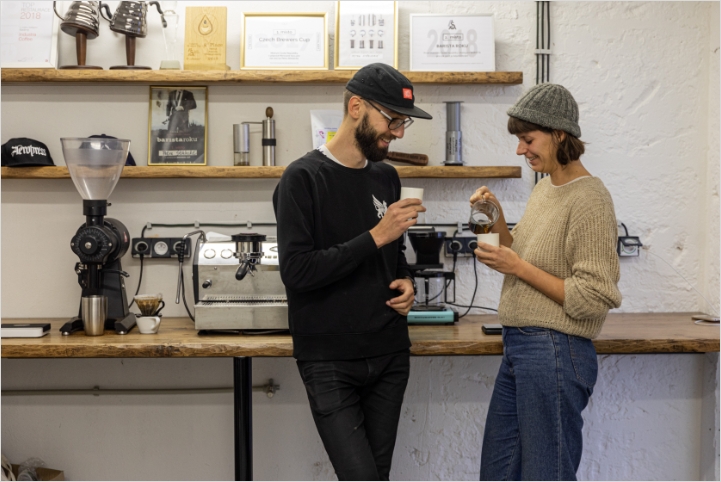 The way we see it (in short)
These two drinks are very different – one very strong, concentrated and tiny, prepared with brute force very quickly, the other delicate, suitable for longer sipping, prepared slowly.
We select and roast the espresso coffees so that they are intense, full-bodied, sweet and their acidity is not unpleasantly pronounced. For the filter, we want to preserve their sparkle, character, intense flavours and balance sweetness with acidity.
Definitely! The legendary Michal Kocman from Coffee Fusion in Brno prepares espresso from coffee "roasted for filter" with great popularity! You may lose texture, the acidity may be a little higher, but it will be a ride! (Recommended for more experienced coffee drinkers with good equipment)
If, on the other hand, you prefer a strong morning French press, it's no problem to pour in one of our less fruity "espresso" coffees. Try it, have fun!
If you prefer a strong and intense flavour (which is perhaps why you like a moka pot), reach for a coffee designed for espresso. But if you want to experiment and aren't afraid of fruitier flavours, try filter roasts. In any case, we recommend a fine grind, a nice spread, and not squeezing the coffee in the strainer. Check out our video tutorial in Stories on Instagram.
Optimally, maybe two weeks. Extreme freshness does not suit coffee at all.
We would recommend that you do not hesitate to drink the coffee as soon as possible after you had open the package. No saving for later, best now 🙂
No! Coffee doesn't belong in the fridge, it's fine in its original bag, from which you always squeeze out the excess air and zip it shut, away from the stove, the heater or the sun's rays 😉
(If you want, you can freeze and archive individual portions of your favourite coffee, more on the internets)
Where you can taste our coffee
Where can you drink our coffee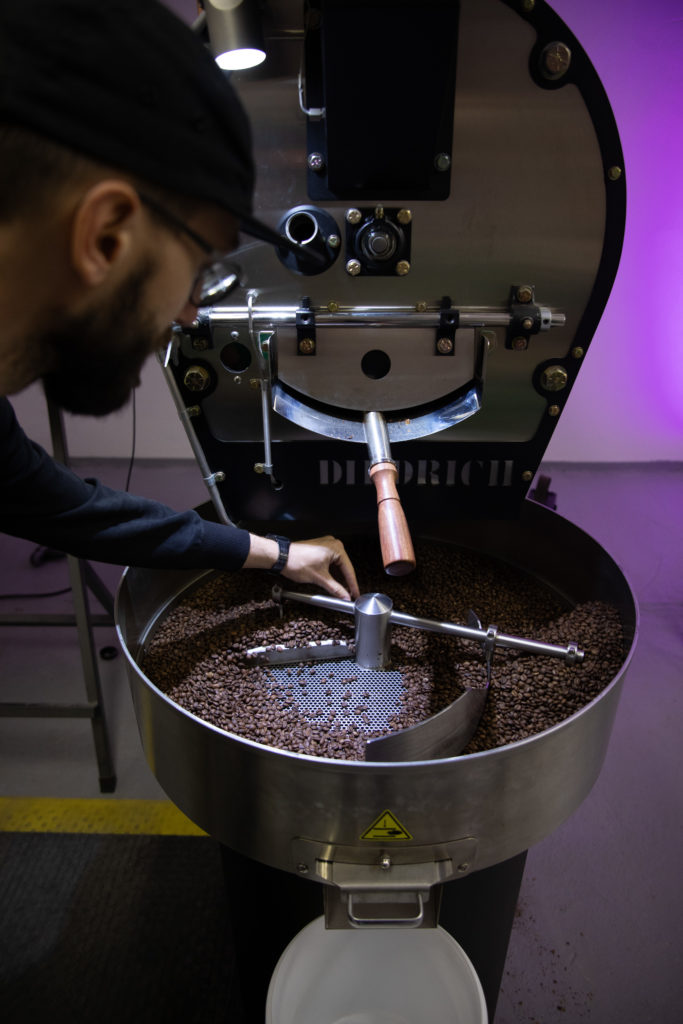 Show map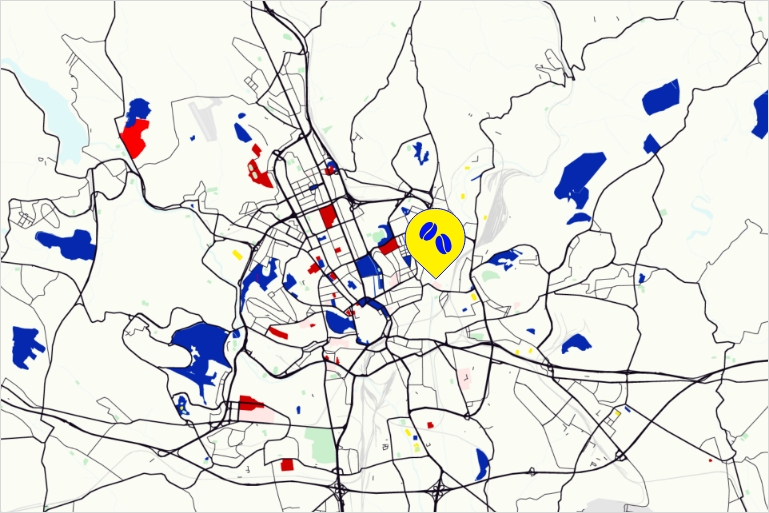 Visit possible by prior arrangement
Nová Zbrojovka – naproti Zet.Office
Brno
Vojenská nemocnice + 7 minut pěšky
Bus 82
Náměstí republiky + 4 min pěšky
Tram: linky 4
Od první myšlenky na vlastní pražírnu jsme si přáli, aby byla přístupná lidem. Aby pražení nebyla tajná magie ale něco, co vám budeme rádi ukazovat a vysvětlovat.
Naše pražírna se nachází v areálu Nové Zbrojovky, v budově bývalé kompresorovny naproti kancelářské budovy Zet.Office.
Plánujeme pravidelné "dny otevřených dveří" a to hned po Novém roce. Sledujte nás, budeme se na vás těšit!
Kontakt
+420 736 135 866
info@industra.coffee
Pražírnu provozuje
IC ROASTERS s.r.o.
IČ: 11659530
DIČ: CZ11659530
Kainarova 2672/26, 616 00 Brno