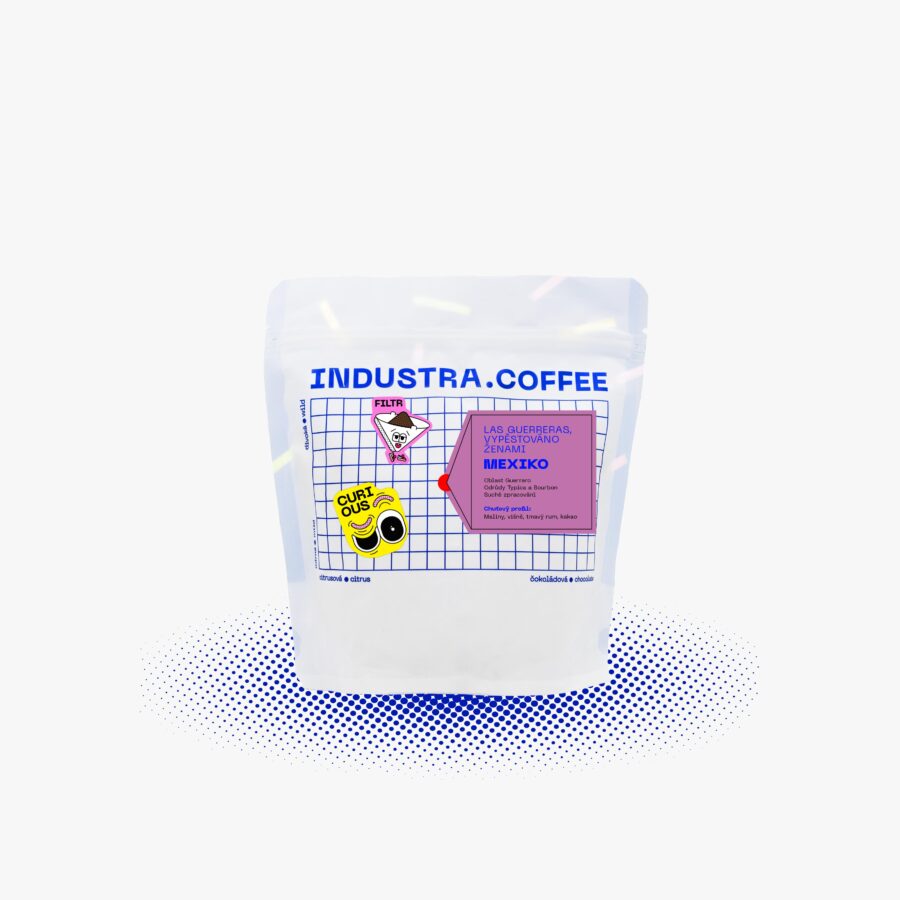 Product description
A great fresh harvest coffee grown by the women of Guerrero, who harvest it at a huge altitude of around 2000m above sea level in the wild forest without human intervention. Completely free of sprays and fertilizers. Look forward to funky coffee and flavours of raspberries, cherries, rum and cocoa.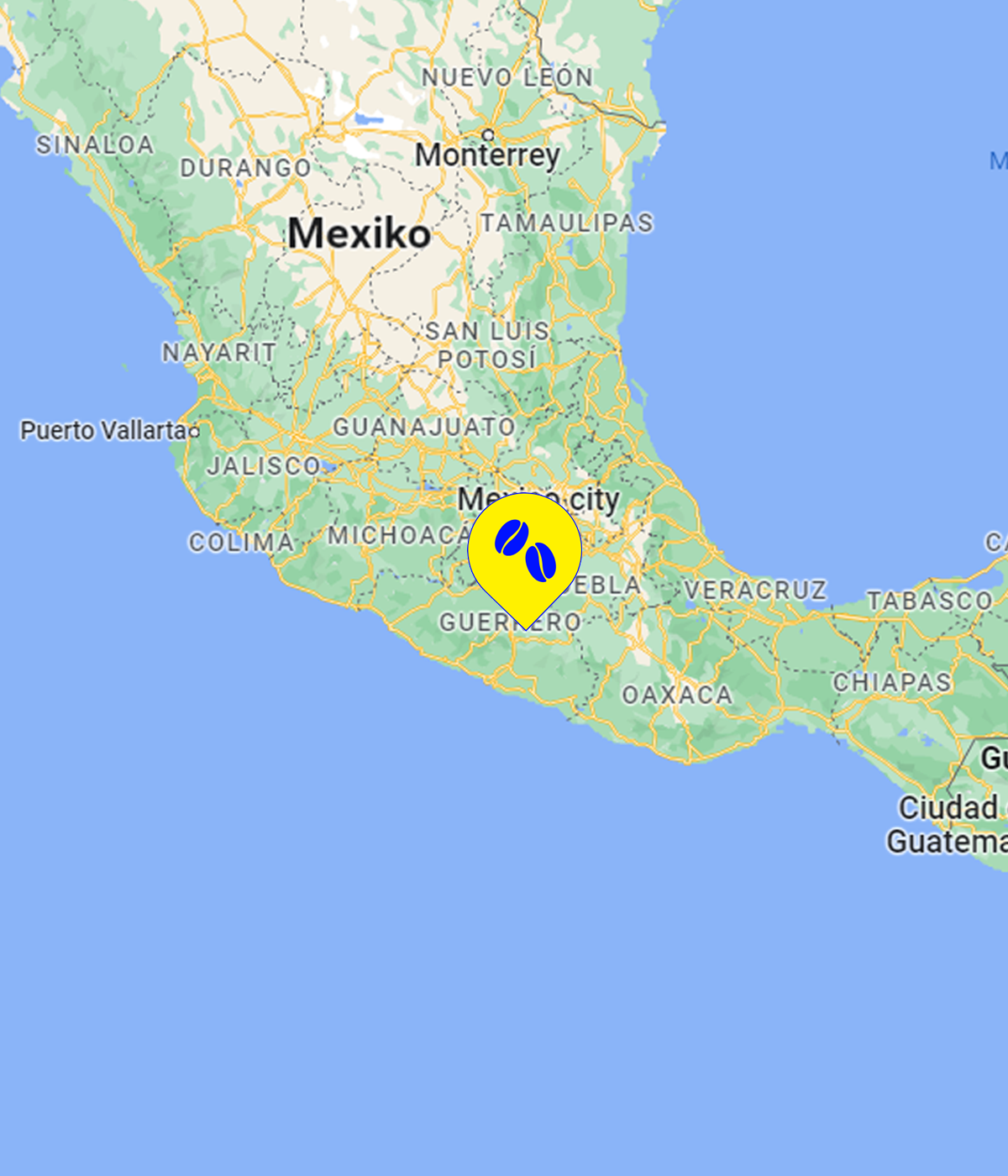 Characteristics of coffee
| | |
| --- | --- |
| Country of origin | Mexiko |
| Weight | 1kg, 250g |
| Farm | Guerrero |
| Processing | Suché |
| Cultivar | Typica, Bourbon |
| Type of coffee | 100% arabica, výběrová káva, zrnková káva |
Recomended recipe
Method:
V60
Brew ratio:
15g/ 250 g
Temperature:
95 °C
Extraction time:
2:20
About coffee

Beyond the name of a coffee lies the story of 20 women who have been fighting their entire lives against discrimination in a culture that strongly marginalizes and minimizes women. It is unfortunately common knowledge that in this region human trafficking is real, and exchanging a daughter for an animal or for cash is a common occurrence in some communities. The lack of institutional support makes it difficult for this situation to end.
Women in Guerrero are not able to own land, even though they are sometimes the ones doing all the work. There are actually many women producers in Guerrero because men emigrate to the north for work in the city. The Ensambles team does make a point at ensuring that women producers receive the money, not their husband, father, son or cousin.
The JUBA project x Ensambles
Ensambles Cafes Mexicanos began a project focused on specialty coffee in this area back in 2017, a project led by Miguel Guevara, an agronomist originally from Montaña Alta. Miguel has been working with producers to improve quality and help reach out to different markets. Miguel delivers training on selective picking, cherry flotation, drying. He also supports the project by obtaining regional funds to finance a nursery, local warehouses, raised beds etc.
The first producers to join this initiative were all women. Those women call themselves the "Evas", in reference to the first woman Eve. They decided to call the project JUBA, which means mountains in their indigenous language Mephaa. Discontentment with low prices has allowed this process to grow rapidly, increasing from 5 to now 190 producers in 6 years.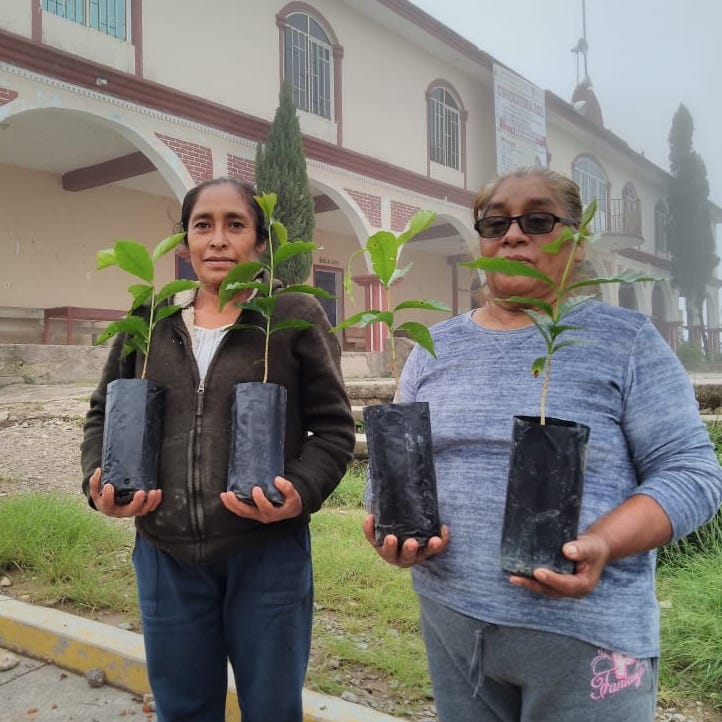 Taste profile
How to understand the grid on packaging?
We wanted to make it as easy as possible for you to choose your coffee, so we worked with the guys from Steezy Graphic Studio to come up with a "grid" – a simple grid where you can easily find the characteristics of each coffee.
The red dot next to the description of each coffee is placed exactly there, so that you can easily imagine how the coffee will taste.
Citrus – chocolate
Here we'd like to give you an idea of how fruity the coffee will be. There's a long way from citrus to chocolate, so imagine more in between:
citrus, berries, green apples, red apples, stone fruits, dried fruits, nuts, milk chocolate and dark chocolate 😉
Mild – wild
What is mild coffee? We'd say it's unpretentious. A coffee that you can just have every morning and not have to think too much about it. It's just good.
The higher the dot, the more excitement you can expect in the taste of coffee. The more surprising and fun it can be. These coffees are fruity, fun, interesting and make you think about what it is that you actually enjoy about them so much.